The next IPU Assembly is scheduled for 20-24 March 2022 at Nusa Dua, Indonesia. The following 12 Plus meetings are planned:
• Monday 7 March 2022: – 12 Plus Steering Committee Meeting – online or in the Hague, Netherlands (to be confirmed) – on invitation only
• Saturday 19 March 2022, 14.30 – 18.00: – 12 Plus Group Meeting – in Nusa Dua (to be confirmed)
Pictures of the meeting on 25 November 2021 in Madrid can be found here
And of 28 November 2021 here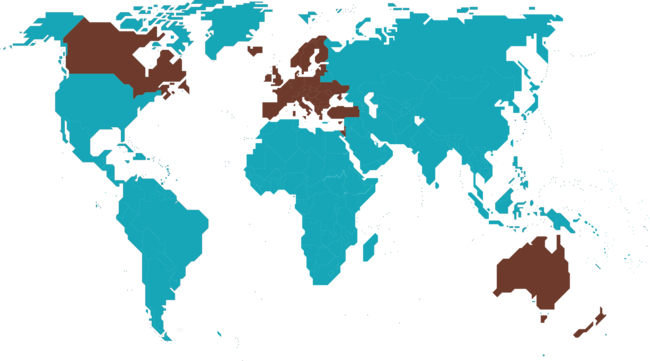 Geopolitical groups were first established within the IPU at the beginning of 1950s. Initially, their purpose was to ensure a fair geographical distribution of seats on IPU's Executive Committee and other bodies. However, over time, their role and responsibilities have evolved.
Today, the six geopolitical groups play an important role in the functioning of the IPU Organization. They prepare and coordinate positions on key issues on the agenda at each Assembly, review vacancies on our committees and groups, consult among their members and propose candidates. This enables the IPU to ensure fair representation of all parts of the world within IPU structures.
The groups hold hearings with candidates for the IPU Presidency and the post of Secretary General, and with any other IPU official as the need arises. They also facilitate consultations on proposals for debates and resolutions on emergency items during our Assemblies and are involved in shaping and reviewing the implementation of main IPU policies.
Each group decides on the working methods that best suits its participation in IPU activities, and informs the IPU Secretariat of its composition, the names of its officers and its rules of procedure.
Members can belong to more than one geopolitical group but inform IPU which one they represent when submitting candidatures for various positions.
Five of the groups represent Africa, the Arab World, Asia-Pacific, Eurasia, and Latin America/the Caribbean. The sixth—known as the "Twelve-Plus" group—is made up mostly of European nations, alongside other Western states including Canada, New Zealand and Australia.
——————————————————————-
If you have any question please send an e-mail to the Secretariat:
12plus@tweedekamer.nl or contact: +31 70 318 2077